Today I'm sharing a simple spring salad idea for everyday lunches and casual gatherings. You're going to love it!
The sun is shining and it finally feels like spring!
After an endless winter filled with wonderful soups, stews and other comfort foods,
I'm ready to lighten it up in the kitchen
And a fresh and simple spring salad is just the thing.
This post includes affiliate links for your convenience at no additional cost to you. You can read my full disclosure policy here.
Today I'm joining a fun group of bloggers to share spring salad ideas.
You'll find links to their yummy recipes at the end.
Don't all these salad look so good?!
I'm making a fresh, spring luncheon salad.
Packed with spring greens, fresh strawberries, crumbled feta and candied pecans.
You can find the recipe here.
It's from Magnolia Table with Joanna Gaines.
Her recipe is intended as a starter salad.
Just add two cups of roast, shred chicken to the mix.
(I used Ina Garten's easy method.)
And a side of sweet baguette.
Voila, it's a meal.
Tossed in a blush wine and berry vinaigrette this salad is so fresh and delicious.
Need to save time?
This already made Blush Wine Vinaigrette is a great option.
More time savers –
Buy a rotisserie chicken.
And make the candied pecans (or walnuts) a day or two ahead.
They're so good!
I shared my all occasion spring table setting here.
Set on my embroidered table throw from Pottery.
It's so colorful and cheerful.
Add flowers by day and candles by night.

Looking for more spring salad ideas?
This Asian Chicken Salad recipe is so good.
And follow these links to my friends spring salad recipes.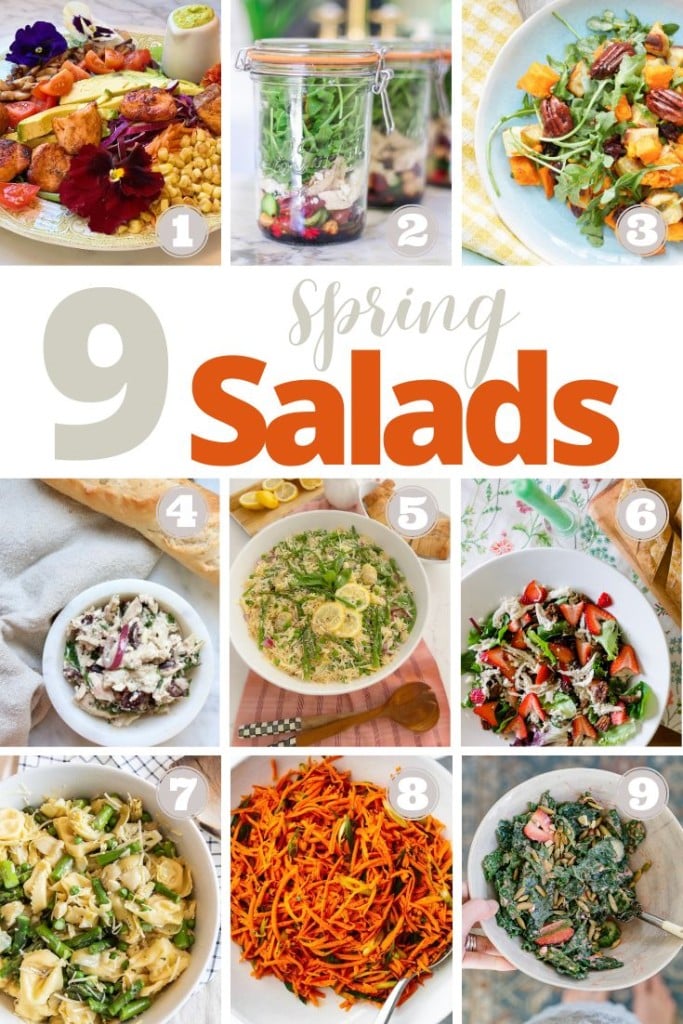 Blogger's Best Spring Salad Recipes
So there you have it, a simple spring luncheon salad.
As always, I appreciate your visit and welcome your thoughts in the comments below.
I'll see you again Saturday for Weekend Meanderings.
Until then, cheers from Snowberry!